Well, last week was a disaster wasn't it? Patriots fans around the tri-state area were almost certain that the Pats offense were due for a bounce back in Houston against a weaker defensive match-up with their own defense playing as strong as ever, just to get their teeth kicked in by former MVP Candidate (yeah I said former, Lamar has locked that up now) Deshaun Watson and the Houston Texans offense.
As far as the Houston defense goes, I'm not giving them too much credit. The Patriots offense weren't beaten by the opposing defense, they were beaten by themselves. Whether it was receivers misinterpreting Tom Brady's hand signals or running the wrong routes, or Tom Brady throwing balls into the ground and putting rookies in the doghouse. They weren't doing themselves any favors. The Texans defense just capitalized and made sure the Patriots didn't get more than two field goals in the time that mattered on Sunday Night Football.
Now we face an extremely similar foe in the Kansas City Chiefs. Another top team in the AFC with some history against the New England Patriots. Including a classic AFC Championship game last year which saw peak two-minute Tom execute TWO end of game drives to send the game into overtime and win the game. So this has all of the drama to make for a solid game Sunday afternoon. Though the Patriots offense has the power to make this a dull defensive spectacle with the Chiefs, who's rushing defense is pretty milquetoast in every facet of the game. So here it is, your post loss Patriots preview for a match-up against the 8-4 Kansas City Chiefs.
Three Keys to The Game
Key #1 : Offensive Communication
A huge detriment to the offense this year is the play-calling by Offensive Coordinator Josh McDaniels. This year they've been as stale and generic as ever with the repetitive outside zone calls that the offense can't block for and a type of offense that has proven to be too much for the rookie receivers. The offense really does lack good play-calling and having the young receivers on the same page with Tom Brady. N'Keal Harry and Jakobi Meyers are clearly lost and it's frustrating Brady beyond belief. It's time that the Patriots simplify the game-plan to help the rookie pass catchers get a clue on how this offense works and excel in the NFL. Unfortunately I don't see that happening but can we at least get the rookies talking with Brady and actually participate in the games so it's not just Edelman and Sanu catching passes?
Key #2 : Get The Run Game Going
Let's just be quick and frank with this one. The Chiefs run defense is less than good. They've allowed the third most rushing yards, second most yards per attempt while being in the bottom 10 defenses in rushing TDs allowed. They're just spineless in the trenches. I would usually say "Stop playing Sony he isn't that good!" here. Although I won't because this is his kind of match-up. Maybe weasel in some Rex Burkhead action as Burkhead and Michel combined for 154 yards and four touchdowns (two each). This doesn't have to be the Tom Brady air show, the Patriots won't win that way. If Michel and Burkhead can get going and eat up clock and keep time of possession on the side of the Patriots, the defense should be able to handle the rest.
Key #3 : Contain Patrick Mahomes
Easier said than done right? The reigning MVP of the NFL Patrick Mahomes has been nothing short of spectacular in his short time in the NFL. He looks more and more like a hybrid of Seyton (give it a minute, it'll hit you) Manning and Aaron Rodgers by the minute with his cannon of a arm and mind boggling accuracy. Already posting 20 TDs on the year with just TWO interceptions (remember he missed three games due to that knee injury), Mahomes is scary. The supporting cast isn't exactly a middle school Ice Cream Social for the Patriots secondary anyway as they will have to find a way to deal with that secondary beater Tyreek Hill and fake-Gronk head(expletive) Travis Kelce. It's a difficult task that this defense hasn't yet shown that they're ready for.
X-Factor : OC Josh McDaniels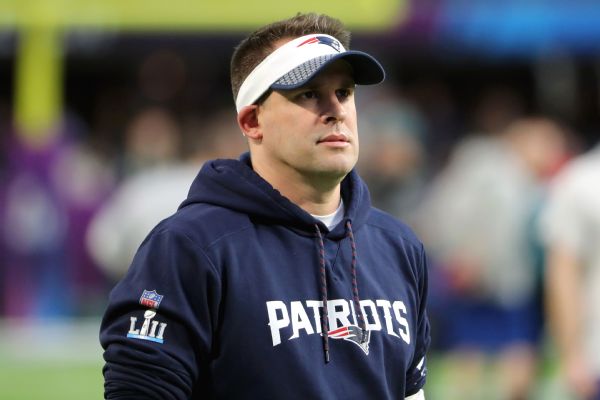 Listen, I love ripping on this pseudo innovative offensive mind just as much as the next guy, but he will be the reason we win or lose this game. Josh McDaniels has to find a way to get this offense kick-started. It's no longer 100% the players problem. We've seen this whole season the offense take absolutely zero strides and nobody is on the same page with Tom Brady, and it all starts with the guy pictured above. It's really sad that the most innovative thing the highest paid offensive coordinator in the NFL has done this year is have your WR throw a pass instead of your QB. That's it Josh? That's the only trick you have up your sleeve? Brady has been bailing out McDaniels for years. The bland play-calls and Brady having to pull comebacks out of his anal cavity have all been products of the lack of energizing plays generated by McDaniels. He's been so bland Patriots fans were actually CHEERING and BEGGING him to take the job with Indianapolis that he was too chicken to take. You want another shot at being a head coach in the NFL Josh? Here's the test, destroy a bad defense with a creative yet simple ground and pound attack, because obviously your tricks of airing it out with your declining quarterback haven't worked to this point.
Closing Thoughts
Alright, I think I got out basically everything I wanted. The offense just seriously can not afford to puke all over itself again. They got absolutely sucker punched against the Texans (No, they didn't almost come back. Houston stopped playing defense and gave up garbage time stats. Stop it with that.) and hopefully that was just a side effect of the Cowboys Cooties that were going around the locker-room.
Nevertheless, this is as tough of an opponent that they'll see to close out the year. I honestly can't decide who's going to win. The Patriots are at home and I hate to pick against them. Though at the same time, they have given me no reason to pick them to win over a team with a QB like Patrick Mahomes. If this becomes a shootout, New England will roll over and die because the offense isn't good enough to keep up. I'm so torn, I'll give you two outcomes, because this is my article and I can make up the rules!
Final Score Prediction : 23-21 New England, or 42-25 Kansas City
Photo Source : Stephen Senne / AP Photo
Want more Patriots content? Like New England Patriots 366 on Facebook today!