It's sort of surreal isn't it? Not just losing in the wild card round. But this season in general, how it started back in training camp, when Tom Brady was going to be in a contract year for the first time in his career. Then how it ended Saturday night in an absolutely grueling spectacle against the Tennessee Titans. Through all the ups and downs it looked like this team could've been poised to beat all of the odds again. Before being met with a harsh strike of reality, leaving us to ask "This isn't how it ends, is it?" Well this article isn't going to do a whole lot of speculating on the future. As it is still a murky subject. Nor will there be a whole lot of debate or negativity in this piece. Maybe in the future we can do a deep dive on a ton of these topics, but we will review all of the major points of this year, how they panned out, and maybe give a little insight on how/why something went right or wrong. Here is your 2019 Patriots Season Review!
Three Major Keys To The Year
Key #1 : Defensive Spectacle
Holy crap, who would've thought the Patriots defense would've been as dominant as it was the entire season? Ranking first in Scoring defense, second in turnovers, second against the pass and sixth against the run. Although having their struggles against the Ravens where they allowed 201 rushing yards, against the Bills where they let Frank Gore cross 100 yards, and the Browns where Nick Chubb ran all over them. For the most part they remained as consistent as ever.
There was even a point in the year where if the Patriots offense didn't play a snap, they had a .500 win-loss record. Given they only played one good team in that first seven game stretch (the Buffalo Bills), but that's an impressive feat regardless. The defense was often the saving grace this year and allowed us to take on teams like the Dallas Cowboys and Buffalo Bills and win, even when the offense didn't produce.
Key #2 : Ineptitude Of The Offense
I know I said there wouldn't be a whole lot of negativity through this review, but there wasn't a whole lot of positives on the offensive side on the ball. We saw it all year with Tom Brady constantly talking about how the offense needed to get better and was constantly frustrated by the inexperienced supporting cast around him. Even after trading for WR Mohamed Sanu for a second round pick this offense failed to start. They went 6-4 to finish the year.
The offense ranked 18th in rushing (yards per game), uncharacteristically seventh in passing offense (yards per game) and 14th in total offense. It's a night and day difference than what we've seen in years past from New England, usually so productive on the offensive side of the ball. They just never really found their groove and it's a big part of why we lost to teams like the Ravens, Texans (especially) and Chiefs. You need at least a solid offense to keep up in today's NFL. The 2019 Patriots simply just didn't have that. Which is why they got bounced in the first round.
Key #3 : Strength Of Schedule
The New England Patriots had a CUPCAKE schedule this year. If we didn't go 12-4 this team was an excuse of a Super Bowl franchise. Fortunately we hit our mark at won the division, and garnered the number three seed. I know the Patriots don't dictate how our schedule plays out. But don't argue the Patriots had the TOUGHEST competition, because they didn't. Their competition was bad.
Throughout the entire year, the Patriots only beat two teams who finished with a winning record, the Buffalo Bills and the Philadelphia Eagles. The rest? Losses to the Baltimore Ravens, Houston Texans and the Kansas City Chiefs. Again, I came into this article not wanting to be negative, but the Patriots were never battle tested. They got smoked offensively and defensively by every good team that they played. The offense couldn't bail out the defense when they struggled, and the defense couldn't hold up forever. We were handed a 12-4 record through our weak schedule and it's no wonder the Titans walked out of Gillette with the victory after bullying the Patriots in all phases.
Offensive MVP : Julian Edelman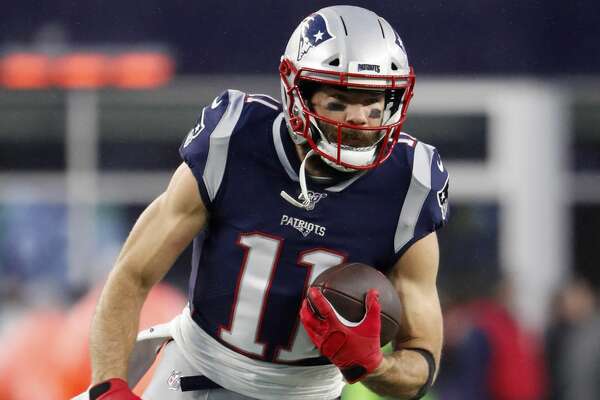 Let's face it, without Julian Edelman, we don't have a home playoff game. Might not even win our own division. He finished the year with 100 catches and over 1,000 yards with six touchdowns. The most reliable receiver on the team. In a locker room full of new faces and guys Tom Brady wasn't familiar with, Edelman was there to bail him out time and time again. It's a no brainer that Edelman is the pick here.
Defensive MVP : Stephon Gilmore
Before the week 17 domination of Devante Parker, Gilmore was the front running defensive player of the year. As a CB! That almost never happens with the domination of defensive lineman or elite linebackers coming through. Finishing the year with six interceptions and just a 43.1 QBR when targeted against with a 50% completion percentage against him, it's again a no brainer the All-Pro first-team member Stephon Gilmore gets the nod here among plenty of worthy candidates on this defense.
Closing Thoughts
In the words of Hoodie Allen, "Where do we go now?" is the question everybody is asking. All of the suspense surrounding Tom Brady's future with the New England Patriots. All of our pending free agents such as Joe Thuney and the McCourty twins. Even stretching out to Offensive Coordinator Josh McDaniels potentially going out of New England and getting a new job elsewhere. There is plenty of panic in New England, and I don't blame anybody who feels stressed about the coming weeks and months.
Everybody wants the answers and there just simply isn't any. I doubt even Robert Kraft, Bill Belichick or Tom Brady know what the plan is going to be. March 18th is the first day of free agency. If TB12 doesn't get a deal by then, he's an unrestricted free agent and can field offers by any team who decides to send one to him and his agent. Is that something he's willing to do? Who knows? Certainly not me and I'm willing to bet he doesn't either.
Oh, and in the good tradition of my Patriots weekly previews, I need a final score to put down in bold italics. So here is my Super Bowl LIV prediction along with the Super Bowl MVP!
Super Bowl LIV Prediction : 35-30, San Francisco 49ers beat Baltimore Ravens
Super Bowl LIV MVP : QB Jimmy Garoppolo
Want more Patriots content? Like New England Patriots 366 on Facebook today!
Photo Source : Elise Amendola / AP Photo