Who would've thought six years ago the second round draft choice for the New England Patriots would be starting in the Super Bowl, and NOT for the Patriots. This has been exactly the case with QB Jimmy Garoppolo. After spending three and a half seasons as the GOATs understudy at Gillette Stadium backing up Tom Brady. He was traded to the 49ers for a second round selection (highway robbery for SF). Since then he has gone 23-5 as a starter and all but established himself as a franchise QB in the NFL. As he should have, given the fact that he's getting paid about $25 million a year.
After blowing his ACL last year, Jimmy Garoppolo put up an awesome Comeback Player Of The Year (yes, I know that undeserving QB in Tennessee actually won it.) campaign. Finishing top ten in TDs (sixth), completion percentage (fourth), passer rating (eighth), and first downs (T-Seventh). Meanwhile having the best completion percentage (50%) on third down and the sixth best completion percentage in the fourth quarter (minimum 83 attempts, Jimmy had 112). Only getting stronger with the deeper analytics, he was spectacular completing passes in close games. Ranking fourth in the NFL among eligible QBs (I counted out QBs who didn't have at least 300 attempts).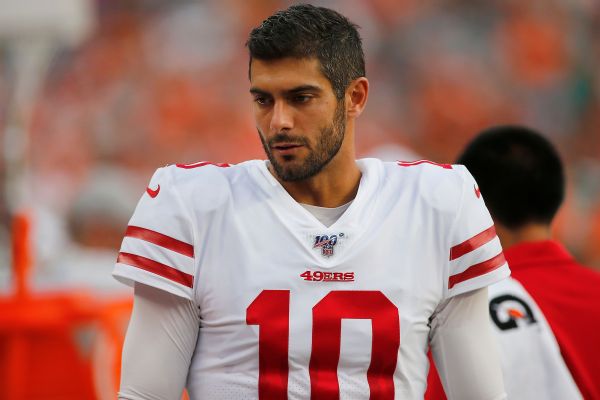 Do I really need to dive deeper into the stats here? When you look at them at face value? Sure, he throws a little bit more interceptions than you'd like. He's a bit of a gambler with the football. Ranking eighth in the league with 13 picks. But if you account for the dropped/tipped passes that Garoppolo had? He would've only thrown six. That's right. Of the thirteen interceptions thrown by Jimmy G, over HALF of them were tipped or dropped balls. Only six are on him, which puts him in the class of Kirk Cousins and Lamar Jackson who also only threw six.
Enough with the nerd stuff. I've made the case that his statistics don't blow as much as you Garoppolo Derangement Syndromes would like to think they do. The new criticism that he's only thrown a handful of passes this post-season is fair. He hasn't been seen at his full volume with 27 attempts for 204 yards a touchdown and a pick. Totally in line for people to be skeptical with a sample size like that. He only threw eight passes in the NFC title game against Green Bay. With that in mind let me ask you this, with your RB averaging 7.5 yard per carry, would you be looking to air the ball out? Just to shove it to some internet bloggers who say your QB isn't legit? Hell no you wouldn't. Context again matters in this situation. If you don't have to put your QB in a dangerous position and you ran run the ball down a teams throat, why would you?
You know who else didn't air the ball out a ton in their early post-season career? The one and only Tom Brady. In his first playoff run, he only threw 572 yards with just a touchdown and a pick in 2001-02. Nothing spectacular. When you compare it to his 2016-17 playoff run. He tossed 142 passes for seven touchdowns for 1,137 yards. Was it a bigger sample size than Jimmy Garoppolo's. By a long-shot. It's comparable though. They both didn't light up the stat sheet in their first years as starters. But they were consistent when the game mattered the most.
This is where the title of this article really comes into play now. Everybody remembers how Super Bowl 36 went down. The underdog Patriots were playing the "Greatest Show on Turf" St. Louis Rams led by league MVP Kurt Warner and RB Marshall Faulk with WR Isaac Bruce. The game came down to the final drive. With John Madden infamously saying "If you're the Patriots in this field position, I think you have to play for overtime here." Just before the sixth round draft pick Tom Brady engineered a drive that led to an Adam Vinatieri field goal that would give the Patriots their first of six Super Bowl titles for the next two decades of dominance.
See where I'm going with this? Similar situation here. Sure, Tom Brady didn't have an absolute BULLDOZER at TE like George Kittle is for Jimmy Garoppolo. WR Troy Brown wasn't exactly a slouch either though with six catches for 89 yards in that game. The 49ers opponent could possibly be compared to the greatest show on turf. With QB Patrick Mahomes and the dynamic WR stable of Tyreek Hill (beats secondaries with the best of them), Mecole Hardman and Sammy Watkins with TE Travis Kelce (who Gronk took George Kittle over) surrounding him. This game is very comparable to the one we saw 18 years ago. Where the 49ers and the Patriots have similar roles. Where the only difference is, the 49ers finished as the top seed and didn't have to play any road games in the playoffs. The Patriots had to go to Pittsburgh and finish the game with the formerly benched Drew Bledsoe after TB12 sprained his ankle to beat the Steelers.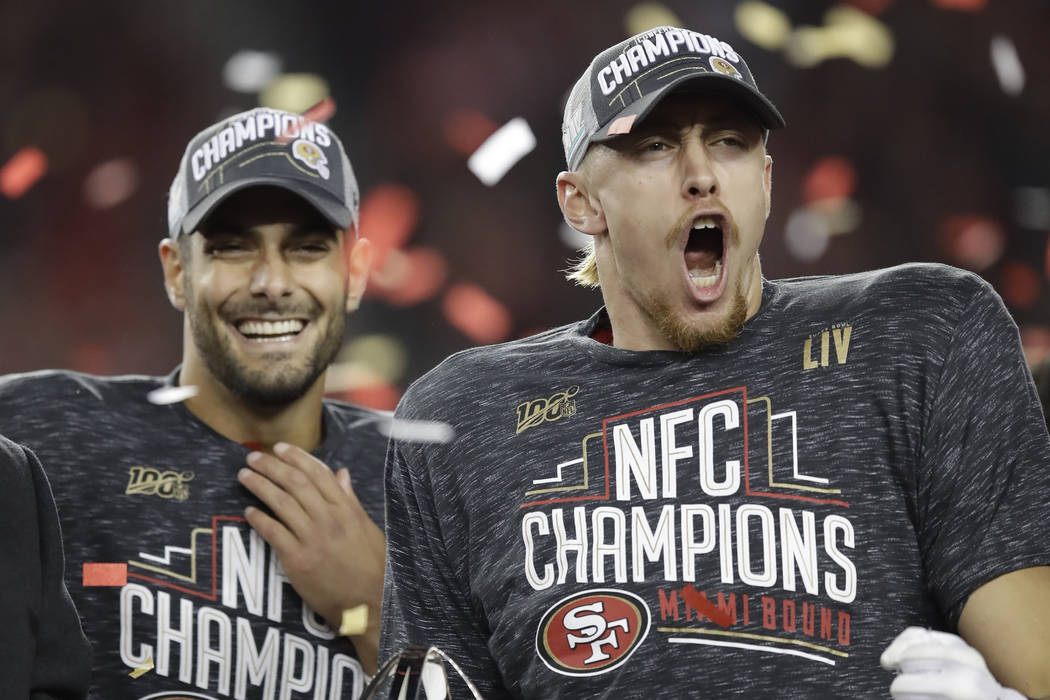 One would argue that Jimmy's supporting cast is much greater than Brady's in his first crack at playoff football. I'd tend to agree. Emmanuel Sanders, Deebo Samuel and George Kittle are all better than the cast that Brady was throwing to in his first post-season campaign. By miles, won't even try to argue that. But fans in 2001 were very quick to count out Brady when they compared him to Kurt Warner that year. I see the same thing in 2020 with Jimmy Garoppolo VS Patrick Mahomes. The 49ers aren't the mass underdogs that the Patriots before them were. Their great defense aids that. But is anybody really arguing that the 9ers supporting cast is greater than KCs? I'm sorry. But if you're putting each of the cores next to each-other. The only two people from the 49ers I'm taking over their competition. Is Kittle over Kelce, and Deebo Samuel over Mecole Hardman. The rest is a tossup at best as far as talent goes.
The coaching is very similar, yet different. Bill Belichick was known as a great defensive coordinator who had past troubles in Cleveland at his first crack at the head coaching job. Kyle Shanahan was a product of his father as this offensive genius who has built this amazing lineup and is being praised as one of the top minds in football. Shanahan was probably a little more favorable than Belichick was at the time period. But neither one of them would be denied as a great football mind. Shanahan was recently snubbed for Coach Of The Year, as it went to John Harbaugh of the Ravens. But there's a reason that this team has been so successful against just about every defense that's been thrown at them. Shanahan is a big part of it. If not THE reason it works. Same goes to Belichick early on in his career. Players like Ty Law, Lawyer Milloy, Willie McGinist and Tedy Bruschi all made impacts and were coached up by Bill Belichick to build what's now known as to Patriots fans, "The Law Firm".
The narrative is often times that if the game came down to Jimmy G, he would fold under the pressure and absolutely crap his pants. I doubt it, he's had four game winning drives this year, and has only gotten better when the moment is bigger. Point to that first Seahawks game all you want. But without Garoppolo, I doubt they're even in a position to take that game into overtime. Especially without George Kittle or Emmanuel Sanders all game and Jadaveon Clowney eating their backup offensive tackles all game long. In this close, big games? He's at his best. The Arizona games, the Seattle games (again, despite a loss), the New Orleans game (Although that wasn't a HIM game winning drive, Kittle backpacked three guys about 17 yards clawing at his face-mask), the final Rams game. He was at his peak performance.
That said, a lot of it has gone unnoticed by the armchair scouts and his successes have fallen into the hands of his teammates around him. Throwing around labels like Game Manager, System QB, Side Car. Is it all that bad if it gets the job done? What will it take for the masses to acknowledge Jimmy Garoppolo's talent and skill? To stop with the comparisons of QBs who couldn't handle a clutch moment if it slapped them in the face.
How about this scenario for you? The Chiefs bottle up the run game, but the Super Bowl is still extremely close. 27-24 Chiefs and the ball is in the hands of Jimmy G and the San Francisco 49ers offense. The ball is at the 20-yard line. Jimmy has his usual stat-line. 100 yards or so, a touchdown, a interception. The game is all on him to make a play to either win the game or send it to overtime. He conducts that drive, makes some CLUTCH third down plays that reminds you of a prime Tom Brady. Then he wins the game. Setting up a nice HB toss to Mostert/Coleman or a toss to Kittle. Is that what it will take? Because that's what it took for Tom Brady to finally get his respect. Do that about four or five times people call you the greatest.
For Jimmy Garoppolo though. It's not about being the greatest. Not yet anyway. It's about just being considered among guys like Deshaun Watson and those top tier QBs. Meanwhile above the people he's compared to like Kirk Cousins, Dak Prescott, Carson Wentz and one year wonder Ryan Tannehill.
Want more Patriots content? Like New England Patriots 366 on Facebook today!
Photo Source : Stephen Brashear / AP Photo