It's been almost a month since Tom Brady took his talents to Florida. Are you over it? Yeah, me neither. But at some point we do have to assess what we have, and like Bill Belichick says, do what's best for the football team. Jarrett Stidham is our starting QB for next year unless by some miracle Alabama QB Tua Tagovailoa or Oregon QB Justin Herbert slide ALL THE WAY to pick 23. Brian Hoyer was signed as nothing more but for competition to keep Stidham on his toes. Seeing as how Stidham already beat out Hoyer last year. He should not have much trouble doing it again.
It's also pre-draft, and the Patriots have some GLARING holes on both sides of the ball. Losing LBs Kyle Van Noy and Jamie Collins leaves some marks to be noted. As well as losing a strong depth piece at WR like Phillip Dorsett who took a veteran minimum to go play in Seattle. So sure, it might be hard to evaluate a team when there are still some holes to fill. But we can still kind of figure out what we have going into next year. This one is about our QB. There are some promising things, and then there are some "oh my god. We're stuck with this bum?" things. Here it is. The top three reasons you should be confident in Stid the Kid. As well as the top three reasons you should start to panic.
Positive : Bill Belichick is a Genius
Not that we didn't know this. Bill Belichick is still our coach, and he has gotten the best out of all sorts of QBs that have turned out to have a couple solid games in this league. List ranges from Matt Cassel, Brian Hoyer, Ryan Mallett (sure he was a moron, but he at least showed some promise, sometimes), all time legendary QB Jimmy Garoppolo and Jacoby Brissett who has proven to be a solid secondary option in Indianapolis. If anybody can get the best out of a scrub QB, it's probably Coach Belichick. Hell, he could probably turn me into a top 16 QB with time.
Negative : His first NFL drive ended with a Pick Six
Stidham's first NFL action did NOT bode well with most Patriots fans. On this play he simply SAILED the pass over RB James White's head and then the rest was history. In a 30-14 blow out, Bill Belichick put Tom Brady back in the game. Is it an over-reaction? You could make a case for it, but don't tell me that this was a moment where you said "This is our guy!" instead of "He's our guy? Back to the basement we go!"
Positive : WR Julian Edelman is still here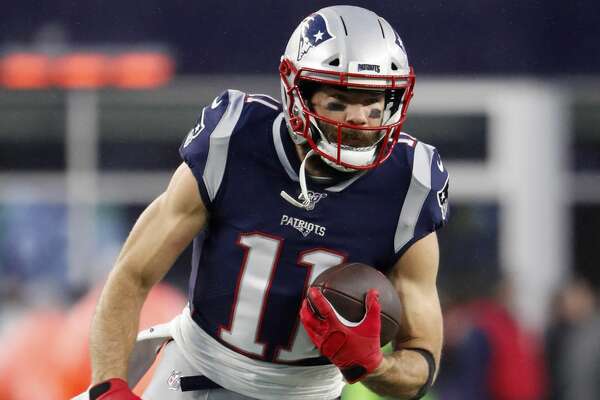 Julian Edelman has proven to be one of the most dependable receivers in the league. He was for TB12 for seven years after Wes Welker left. Now we need his veteran presence to lead Stidham's offense. Edelman, turning 34 in May, will probably be Stidham's go to guy for the start. Until he gets comfortable with N'Keal Harry and gets a rhythm going with Jakobi Meyers who showed flashes of ability last season. If Edelman could just provide Stidham what he gave Brady, which was short routes and finding the open zone, we could see Stidham's growth really surge in his first season as an NFL Starter.
Negative : He was a fourth round pick for a reason
Listen, I'm not going to sit here and pretend to be Mike Mayock and know everything about the NFL Draft and college QBs. Things like who's a bust coming out of college and all of this other stuff, because I don't know. Though it does tell me something about Stidham that he fell all the way to the fourth round for New England. If he was as good as we all make him out to be, how did he slip that far? As I do my research for scouting profiles and see what the knocks on him were, I found things like : "He melts under pressure", "He freezes up in the pocket", "He responds to new information with panic and not poise". We saw that a little bit in his pre-season outings.
It wasn't an overly loaded QB class last year either. Outside of Kyler Murray, Dwayne Haskins, Daniel Jones and Drew Lock he could have easily been the QB5. But quarterbacks like Will Grier and Ryan Finley were viewed better than him by other teams. Could those other teams be wrong? Sure. But what made them see what they saw in Grier and Finley, and not in Stidham? It's worth thinking about.
Positive : Stidham won't ignore young WRs
Let's face it, guys like first round pick N'Keal Harry and UDFA Jakobi Meyers never got a fair shot to succeed last year in New England. Why you might ask? Could be a couple of things. Such as Josh McDaniels not setting them up in the offense. I personally lean towards that Tom Brady wasn't too fond of having to teach the kids the offense anymore. Not to slander the now Buccaneers QB (YUCK), but let's be honest, Harry and Meyers were scared of Brady. He wasn't helping them out by any means. This rant alone showed just how different things were now, compared to the Tom Brady of the past.
Is it just me or does that "pep-talk" seem more forced than what they were several years ago? Where he seemed like Brady was motivating his teammates? Not just grinding his teeth trying to get something out of them. Maybe I'm diving into the Brady stuff too much. In the pre-season though, Stidham and Harry had a SOLID rhythm going. Meyers was also involved. Meanwhile when it was Brady tossing to them in game situations, it looked like they were all on different pages. Go watch any game from last season where both Harry and Meyers were on the field, how often did Brady even look their way?
Stidham gives the young weapons a fair chance to shine because he's just as new as them and open to learning. Brady knew everything that there was to know in that offense, and I think had zero patience for anybody who didn't nor didn't have the talent to get away with it yet.
Negative : The team kind of sucks
Yeah, this is probably the biggest obstacle that Stidham is going to have to overcome. Yet this is probably the most slack he's going to get. So maybe this is a good and bad thing? Let's just rip this band-aid off. The team blows. The offensive line is suspect beyond Mason and Thuney (who's on that MASSIVE franchise tag), the wide receivers consist of almost age 34 Julian Edelman who's an injury concern, two second year wide-outs who have had little development and the TE's are atrocious. Nevermind the defensive side of the ball where the Pats lost Nose Tackle Danny Shelton and aforementioned Jamie Collins and Kyle Van Noy.
His supporting cast just isn't there. So it could maybe cut him some breaks, but if he wants to instill confidence that he could at least be a solid starter in this league and even half fill the shadow that Brady put on that Gillette Stadium turf for twenty years, it'll go a long way. I'm not expecting a Patrick Mahomes type of breakout year out of Stidham. You would be foolish to. But is it safe to say for all the media has propped him up and how Patriots insiders are leaking how confident they are in him, that there isn't at least SOME level of "this guy better be good?".
When Devin McCourty is saying on his podcast "we have full confidence in Jarrett Stidham and he will be in New England for a very long time." that gives Patriots fans some reasoning to have high hopes for Stidham. The question is, is it too much for him? We will hopefully soon find out.
Want more Patriots content? Like New England Patriots 366 on Facebook today!
Photo Source : NBC Sports Boston